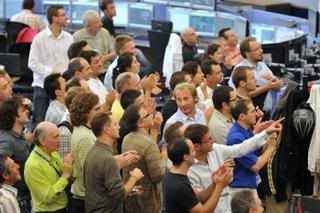 The Large Haldron Collider has been fired. And the world survives as of this instant. Its an indeed a great step forward for mankind. Let us hope something interesting comes out of this experiment and it just doesn't turn out to be a white elephant!
Well the doomsday predictions of people set off different reactions in people.. While some people wanted to spend their "last day" with their families; one 16 year old girl committed suicide in Indore, Madhya Pradesh – a life wasted due to the silly doomsday predictors!!
Chhaya, a resident of Sarangpur town in Rajgarh district, consumed sulphos tablets (an insecticide) on Tuesday, her parents said. The girl was rushed to Indore's MY Hospital where she succumbed on Wednesday.

Her parents told reporters that she was watching a news report relating to the world's biggest atom-smasher experiment on TV channels for the last two days and was restless.
Now, for the good news:
Even India's flag was high amongst the science community which worked on the LHC.
Indian laboratories, led by Raja Ramanna Centre for Advanced Technology (RRCAT) at Indore, have contributed substantially towards construction of the accelerator (LHC) itself, with many components being fabricated by Indian industry and supplied to CERN.
Teams from IITs, TIFR, BARC, and Universities of Delhi, Punjab and Vishwa Bharati have participated in this experiment. The lure of the going to the fundamental truth of the Universe was there for all, as Atul Gurtu of TIFR explains:
Gurtu said the scientific goals are truly stupendous, ranging from understanding the microcosm of the sub-nuclear world to attempting to answer the question what was the universe like at the very beginning of time, a few moments after the Big Bang.
Get Drishtikone Updates

in your inbox
Subscribe to Drishtikone updates and get interesting stuff and updates to your email inbox.
Thank you for subscribing.
Something went wrong.