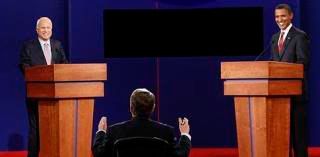 Today is the last of the three debates between the Presidential hopefuls in the US. Obama is already way ahead in the lead and many indicators say that he is all set to get to the White House. McCain is trying hard now… and in the last few days has amended his campaign from utter hate filled stuff to some semblence of dignity.
And for the record, no matter what the analysts say in the media, his campaign DID act racist and Palin etc were making utterly racist comments! I don't know the correct content of George Wallace… but to me whoever he was, McCain's campaign was VERY close to the worse one can get to in a Presidential race!
Today, it seems McCain will try to come out shooting all guns… .like he said to whip his "you know what". And Obama set the bait after last debate by saying that McCain says things behind his back and never on his face. Today McCain may take that bait and go all over the place again – just as last time! So, instead of talking economics he might just go on and on with his Obama rhetoric! And that is what is so stupid about his campaign! The conservative analysts (who basically think with their d**ks) I heard on Lou Dobbs somehow believe that McCain has been very "subdued" and should hit "back" (??)!

Well, if he has to hit back he should do that with his economic ideas… consistently thought about ones.. not a "new idea an hour" kinda strategy! That just confuses the heck out of everybody! Very soon McCain would have promised everything possible in his campaign – Absolute deregulation AND strong regulation, High individual taxes AND no taxes… et al. He just lacks perspective and seriousness of becoming a President… PERIOD!
Get Drishtikone Updates

in your inbox
Subscribe to Drishtikone updates and get interesting stuff and updates to your email inbox.
Thank you for subscribing.
Something went wrong.