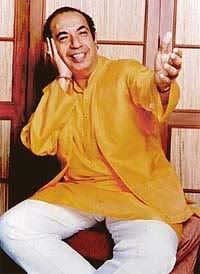 During the weekend (September 27, 2008) one of the greatest playback singer of Bollywood movies died. He was 74. Mr. Kapoor had been suffering from kidney ailment and had undergone dialysis as well but was now stable – although now he was suffering from some heart ailment. He died late Saturday in his sleep and was adjudged as having died from Cardiac Arrest.
He hailed from Amritsar and got noticed after he won a singing contest at All India Youth Festival in late 1950s.
He made his debut in V. Shantaram's Navrang in 1958, singing Aadha Hai Chandrama Raat Aadhi, under the music direction of C. Ramchandra. He was a fan of Mohammad Rafi and his voice was very close to him. In fact when his first song was aired on All India Radio, the credits were given to Mohd Rafi for the song!!
About his relationship with Mohd. Rafi, Mahendra Kapoor once said:
"Rafi saab had made it very clear, much before my career hit a high note, that we should not sing together, mainly because of two reasons. One because we shared a guru-chela relationship and there should be no competition between us and secondly because our voices are very similar."
He however sang Ek chand aasman pe hai ek mere paas hai from film Aadmi. Check it out below.
Read about how he once gave an autograph to a Rafi fan by signing in as Mohd. Rafi and the rest of his interview here.
No one has had a range like Mahendra Kapoor in songs. His voice could go to lower notes and show restrained strength and then immediately to the highest note that any Bollywood singer could dare to get to and show that strength in its complete glory!! In my personal view, he was the voice of a handsome young man! His was a voice of a restrained and disciplined but strong young guy – and no one benefited from it more than Sunil Dutt! His songs for him in BR Chopra's movie gave him that aura of Greek God, that Sunil Dutt had!
His first major hit was "Tere Pyaar ka Asra" from the movie Dhool ka Phool. The association with BR Chopra would go a long way for him. He He sang great hits in Chopra's Gumrah, Humraaz, Waqt, And Nikaah. He also sang in the serial Mahabharat for BR Chopra.
He was the voice for Manoj Kumar as well – singing for him in Upkar (Mere Desh Ki Dharti being the greatest hit), Purab aur Paschim, Roti Kapda aur Makan and Kranti.
My Personal favorites of Mahendra Kapoor songs are:
– Bharat ka rehnewaala hun from Purab aur Paschim
– Chalo ek baar phir se from Gumrah (won Filmfare in 1963)
– Neele gagan ke tale from Humraaz (won Filmfare in 1967)
– Aur nahin bus aur nahin from Roti Kapda aur Makaan (won Filmfare in 1974)
He also won the National Film Award in 1968 for Best Male Playback Singer for Mere Desh ki Dharti from Upkaar.
Get Drishtikone Updates

in your inbox
Subscribe to Drishtikone updates and get interesting stuff and updates to your email inbox.
Thank you for subscribing.
Something went wrong.