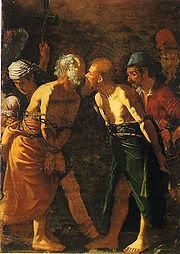 Farewell of Saints Peter and Paul, showing the Apostles giving each other the holy kiss before their martyrdom. (Alonzo Rodriguez, 16th century, Museo Regionale di Messina).
In the midst of the 20 nations who came to meet in US for the session to solve the current economic problem, I saw George Bush kissing the Saudi prince on the cheek on both sides, which is the popular custom in the middle east between men. Now as a host and a friend of the Saudi prince it was probably a very warm gesture… but it was nevertheless, a little strange. Specially given that Bush is also the "leader" of the right wing of US conservative for over 8 years.. and many among them would consider this greeting as "gay-ish".
But there was a time when this kind of greeting was called the "Holy Kiss"!
The holy kiss is a traditional Christian greeting. The term comes from the New Testament, where it appears five times.

It is mentioned in:

* Romans 16.16a – "Greet one another with a holy kiss"
* I Corinthians 16.20b – "Greet one another with a holy kiss"
* II Corinthians 13.12a – "Greet one another with a holy kiss"
* I Thessalonians 5.26 – "Greet all the brothers with a holy kiss"
* I Peter 5.14a – "Greet one another with a kiss of love"

Superficially, there was nothing new in the practice of Christians greeting one another with a kiss: cheek kissing was the normal way that men in the ancient western Mediterranean would greet one another. However, the New Testament's emphasis on its being a holy and love (agape-) kiss meant that it quickly developed into something more than a greeting. The writings of the early church fathers mention the holy kiss as forming the introduction to the regular Sunday eucharist in the early church.
Get Drishtikone Updates

in your inbox
Subscribe to Drishtikone updates and get interesting stuff and updates to your email inbox.
Thank you for subscribing.
Something went wrong.