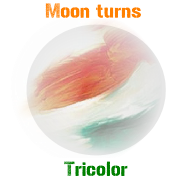 Only four nations have landed on the moon in the recorded human history – US, Russia, China and India. As the probe from Chandrayaan-I touched the surface of the Moon, India touched the lunar surface. The probe, painted with the Indian flag, touched down at 2034 (1504 GMT), the Indian Space Research Organisation (ISRO) said.
The dropping of this probe (Moon Impact Probe – MIP) about 30 kg, brings the first phase of this mission to a triumphant end. Now, MIP will measure the composition of the Moon's ultra-tenuous atmosphere, or exosphere..
The Chairman of the Indian space program was a bit modest when he said that the mission was 95% successful so far and said that the next lunar mission will probably be launched by 2012.
Bhuvan – competitor to Google Earth
ISRO is also planning to start a service that competes with Google Earth and using its satellite network to create a high resolution web-based mapping system. The service, will initially cover only India, will be offered at no cost to web users.

The prototype will be ready by end of November and the public launch is aimed by March. India has launched over 50 satellites in last roughly three decades and is a credible competitor to EADS, Mitsui, Raytheon and Boeing!
Aditya – the sun mission from ISRO
Now ISRO is also planning a "Sun Mission" – a space craft called "Aditya" to study the outermost region of the Sun called corona.
"During solar maxim…which is happening…we would like to see the type of emissions which are taking place in the Sun and how it interacts with the ionosphere and atmosphere and so on," he said.
Aditya is the first space based Solar Coronagraph intended to study corona and the first effort by the Indian scientists to study and get insight into the coronal heating, coronal mass ejections and the associated space weather processes. And why do we need a space mission to study the sun?
From the Earth, corona can be seen only during total solar eclipses, mainly due to the bright solar disc and the scattering of the sunlight by the Earth's atmosphere. One has to go beyond the atmosphere to be able to mask the bright solar disc and study the corona.