Here is an interesting scene – a Pink Chaddi Soldier! The guy's name is Zachary Boyd. He woke up to a Taliban assault on his platoon and only had time to grab his weapon, helmet and body armor before he could rush out to fight.. in his pink boxers and flip-flop sandals. The 19 year old kid is a member of Army's 1st Battalion 26th Infantry and hails from Fort Worth, Texas. The boxers are from a shop in New York City and his shirt came from his favorite ice cream shop, Woolley's Frozen Custard in his home town.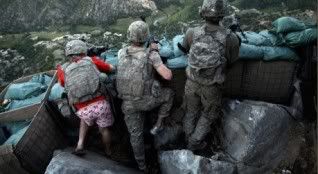 Get Drishtikone Updates

in your inbox
Subscribe to Drishtikone updates and get interesting stuff and updates to your email inbox.
Thank you for subscribing.
Something went wrong.